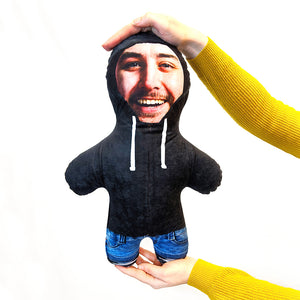 Mini Me - Hoodie - Black
Regular price $55.00 Sale
**SHIPS FROM GREAT BRITAIN**
Delivery Time
- US : typically 10-14 working days after order is placed
- UK : typically 7-10 working days after order is placed
- Others : typically 12-16 working days after order is placed
The Original Mini Me!
Minimise yourself, your friends, your pets or your idols into super cute and hilarious tiny cushion-like toys.
With a huge variety of designs, we have a Mini Me for everyone.
Our Mini Me's make the perfect Christmas, Birthday or 'Going away' prezzie that you can snuggle, hug or (if you like) stick pins in. Treat each family member to a Mini Me Doll.
Upload an image of your face using our designer and await the arrival of your microscopic alter-ego!
Product details:
Made with an envelope back to allow for a removable inner
Machine washable at 30 degrees - outer only - drip dry
18"/46cm tall to 13"/33cm wide
CE tested and approved.
We always recommend that you use a high-resolution image to avoid the risk of a pixelated face, as we do not accept liability for blurry images.